Columbaria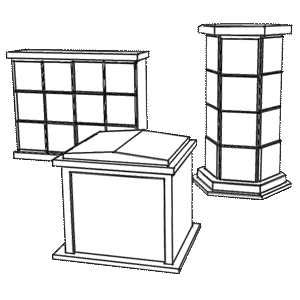 Cremation is a very popular memorial option and becoming more so every day. Pepin Granite provides cremation memorial products including private and community columbaria, cremation memorial benches, features and more.
Our columbaria are available in many sizes and shapes and can be simple or complicated in their elegance.
A columbarium expresses our innermost wish to remember and honor our loved ones. They offer a place of safekeeping for cremated remains and a thoughtful place to meet.
People frequently use the term Mausoleum instead of Columbarium, but there is a difference. Both are permanent public memorials but Columbaria are intended for cremation urns.
Pepin Granite does not sell directly to the public. If you are a customer seeking a memorial, please contact us and we'll put you in touch with a local distributor.
If you are a distributor, contact us to set up an account.
Our regular office hours are 8:00 am to 4:00 pm Monday through Thursday and 7:00 am to 3:00 pm on Friday, all times are Eastern Time US. We always have someone available to answer the phone during normal business hours.
Call Pepin Granite toll free at 800-654-5420 or email our sales department now.