Mausoleums from Pepin Granite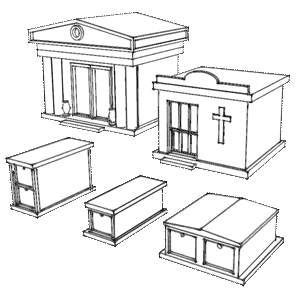 Push-ins and Walk-in buildings…
Mausoleums from Pepin Granite are free-standing, above ground eternal internment place. Our products are made from the finest granite by skilled craftsmen in Barre, VT – the Granite Capital of the World.
Walk In Mausoleums are above-ground buildings where the casket is placed in a crypt space with a plaque bearing the name of the deceased. Some people choose mausoleum entombment because they don't like the idea of being in the ground and because they often provide a comfortable place to visit no matter the weather.
Push In Mausoleums are above ground structures with one to eight or more crypts. They offer a dry, clean alternative to traditional burial at a comparable price.
Mausoleum Gallery
Pepin Granite does not sell directly to the public. If you are a customer seeking a memorial, please contact us and we'll put you in touch with a local distributor.
If you are a distributor, contact us to set up an account.
If you are interested in a Mausoleum, contact Pepin Granite for information. We're prepared to assist in every step of the process.
Our regular office hours are 8:00 am to 4:00 pm Monday through Thursday and 7:00 am to 3:00 pm on Friday, all times are Eastern Time US. We always have someone available to answer the phone during normal business hours.
Call Pepin Granite toll free at 800-654-5420 or email our sales department now.