Upright Headstones – Dies and Bases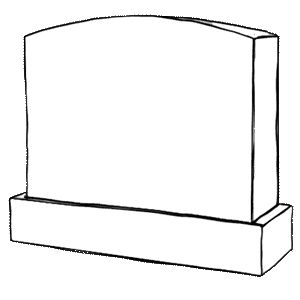 Frequently called headstones or tombstones, our upright granite monuments offer endless possibilities for personalized memorials. Upright Headstones are the most common cemetery memorials.
Pepin Granite's Upright Headstones consist of 2 pieces: the top or upright piece is called a "die," the bottom flat piece is the "base."
Our Upright Markers range from simple, traditional headstones to personalized sculptures. See our photo galleries for examples of some of the personal memorials we have created.
Upright Monuments vary greatly in shape and size; they are only limited only by the cemetery's rules and regulations – and your imagination.
No matter which custom upright headstone you choose, Pepin Granite will work with you each step of the way to ensure you receive the product your customer wants.
Upright Headstones – Dies and Markers
We do not sell directly to the public. If you are a customer seeking a memorial, please contact us and we'll put you in touch with a local distributor.
If you are a distributor, contact us to set up an account.
We're open 8:00 to 4:00 Monday through Thursday and 7:00 to 3:00 Fridays – Eastern Time. Here in Barre, VT it's Wednesday the 24th of January, 2018 at around 04:51 AM. Our office is closed now.
Call Pepin Granite toll free at 800-654-5420 or email our sales department now.